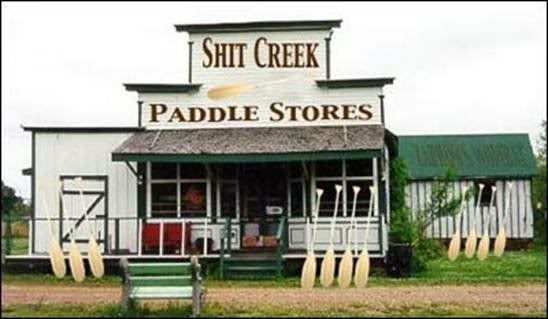 Have you ever heard the expression "I'm up Shit Creek, in a barbed wire canoe, without a bloody paddle?"
Before you freak... "Shit Creek, located in County Clare (Ireland), is an exposed reef break that has pretty consistent surf. Offshore winds are from the east, and the windswells and groundswells come in equal measure. Beware the rocks and rips." It's desolate, and not someplace you really want to be if your sailing or surfing skills are substandard.
How many times have we found ourselves in a situation that is somehow beyond our skills to handle? We wade in, thinking we can get through it, only to find that we are quickly losing stride, and suddenly caught up in a heavy current that carries us into either deeper waters or towards certain doom on a rocky, jagged shore. In a sense, we are adrift, without a paddle to help guide us.
My good friend, Gene, sent me an email with the picture seen above. The email was entitled "When a guy needs a friend." That got me thinking. How many times have we been up Shit Creek (figuratively), and been too proud to call out and ask a friend to toss us a paddle? Even more so, how many times have we been too proud to call up our greatest friend, the Lord, who would not only give us a paddle, but would also send the Holy Spirit to sit on the bow of our boat and guide us through the mess? Human beings seem a hard time being humble enough to admit we need help!
Humility isn't a quiet nature or proper manners. Humility is the state of being humble, and to be humble is to be not proud or haughty, not arrogant or assertive. It is reflecting, expressing or offering in a spirit of deference or submission (such as a humble apology.) It is by no means a sign of being weak... in fact, it takes great strength to be humble. We have to battle our own wills, cast off our mantle of pride, and become grounded again in our own weakness. But, once we have reached a state of humility, we find that things get much easier. We are no longer facing things along. Suddenly, we find that we can get through things, because we now have someone right there with us, offering us a paddle, or hand, and guiding us.
Take some time today to reflect on areas where you could use some help. If you are struggling with a decision at work, or trying to find a way to help yourself get out of debt... trying to deal with a child who is chock full of "won'ts!" and "No!"... dealing with a spouse who is a workaholic... coping with the loss of a loved one... trying to quit smoking or lose weight... or even simply trying to get closer to God... reach out and ask for help. Even if you don't think there is a friend nearby who has a paddle to hand you, always remember that the Lord never leaves your side, and he can help guide you to calmer waters.
Psalm 46:1-3
1

God is our refuge and strength,
an ever-present help in trouble.
2 Therefore we will not fear, though the earth give way
and the mountains fall into the heart of the sea,


3 though its waters roar and foam
and the mountains quake with their surging.
Isaiah 58:11
11

The LORD will guide you always;
he will satisfy your needs in a sun-scorched land
and will strengthen your frame.
You will be like a well-watered garden,
like a spring whose waters never fail.